MS Eppicard Login
The Mississippi (MS) Eppicard program is managed by the Mississippi Department of Human Services. It is used to make payment to Child Support payments to custodial parents without issuing paper checks. Card holders can use the debit card at merchant and bank locations worldwide. This post will help you login in or register your card before you begin to use it. 
Here are instructions on how to log into your account. If you just received your card, you will have to activate it before you can use it. If you have already activated your card, you should look below for how to login.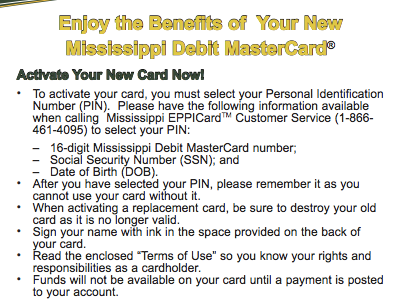 Activate MS Eppicard Login 
Follow the instructions above to activate your eppicard. You will need your social security number and birth date. You will also be required to select a user ID and password.
Log into MS Eppicard Login 
To login, visit this website, and enter your user ID and password. This is the user ID you selected when you activated your card. If you forget your User ID, click on the "Forgot User ID" link on the left and enter your card number and CVV information as requested to retrieve your User ID.
If you need further help, you can call customer service at the following:
Mississippi EPPICardTM Customer Service
Call 1-866-461-4095 (toll free)
International Calls: 1-801-352-3274 / TTY Calls: 1-877-906-0085
24 hours a day / 7 days a week
We hope you found this information helpful. If you are having issues with customer service or with your card and would like us to know about it, share them below or email us at [email protected]. This will help those who are in the same situation know what to expect. 
Mississippi EPPICard Update and Changes
Attention Mississippi Unemployment Debit Card recipients! As of March 11, 2021 the Mississippi Department of Employment Security (MDES) has changed Debit Card providers.
The Mississippi EPPICard has now moved to the Mississippi Way2Go Card.
The Mississippi Way2Go Card is now being used to deliver benefits to recipients for the following programs:
Unemployment Insurance (UI)
Food Stamps (SNAP)
Cash Assistance (TANF)
Child Support
Starting at 9:00 pm, March 11, 2021 to 1:00 am, March 12th you will NOT be able to:
Use your EPPI Card to make purchases or withdraw money at the ATM
Access the EPPICard.com website
Contact EPPICard Customer Service
Way2Go Card Mississippi FAQs
Mississippi Way2Go Debit Card for Benefits Payments
For more information on the new Mississippi Way2Go Card, visit our Mississippi Way2Go Card Balance and Login article here. We provide you with information on how to get started with your MS Way2Go Card including how to access your benefits online, contact customer service, check your balance, and more.
If you currently have a Mississippi EPPICard, you can use your MS EPPICard until your balance reaches zero. Once your balance has reached $0.00, you must activate and use your MS Way2Go Card for receiving unemployment payments.
To get started with your new Way2Go Card Mississippi and access your benefits, you need to:
Visit the new Mississippi Debit Card website at goprogram.com
Register your new Way2Go Card
Create a MS Way2Go User ID and Password
For help checking your Mississippi EPPICard balance and to login your online EPPICard MS account, read our EPPICard Login and Balance Instructions here.