Eppicard Account Login
If you have an eppicard and would like to log into your account, you've come to the right place. The post below walks you through the step-by-step process of how to log into your account. If you do not remember your User ID or password, we have instructions on how to retrieve that information. If you are a new eppicard user and just received your card, we have instructions on how to activate your account and setup online access so that you can view your account balance and other relevant information.
How to Login to Your Eppicard Account
Step 1
You need to visit the Eppicard website to login to your account. The first thing you have to do is select your state. Also, note that some states use eppicard for different programs (Unemployment benefits, child support, foster care, child care, TANF and Medicaid payments) so be sure to pick the right program you are looking for. A good way to make sure you are picking the right program is to look at the image of the card displayed and see if it matches what you have. Another way to check is to click on the "Program Material" link in the middle of the page. Once you review the program materials, you will know if they are talking about the program you are looking for.
Step 2
You are going to need your User ID which you created when you set up your online account. If you do not remember that User ID you created, click on the "Forgot User ID?" button on the top left corner of the page to retrieve that information. You will need your card number and CVV to do this.
To log into your account, click here. We have also conveniently provided links to each eppicard page by state and program. Be sure to select the right program that applies to you.
CLICK ON YOUR STATE AND PROGRAM
AL – Child Support
AL
CA
FL – Child Support
FL – Unemployment Insurance
GA
IL – Child Support
IL
IN
IA – Workforce Development
IA – Department of Human Services
IA – Medicaid
MA
MS
NV
NC
NH
NM – Child Support
NM – Unemployment Insurance
NM – Foster Care
NJ – Child Support
NJ – Foster Care/Adoptive Care
NY
OH – Child Support
OH – TANF
OK
OK – Unemployment Insurance
PA – Child Support
PA
SC
TX
UT
VA
VA – Child Care
WI
Activate a new online account
If you have a new eppicard and would like to create an online access account, you need to first register. To do that, follow "Step 1" above by selecting your state from the list above. Then click on the "New User?" link at the top corner of the page. You will be asked to enter the following information to create an account.
Card Number
CVV
Social Security Number
Date of Birth
Email Address
You will need to create a User ID
You will need to pick a Password
This is what the page looks like: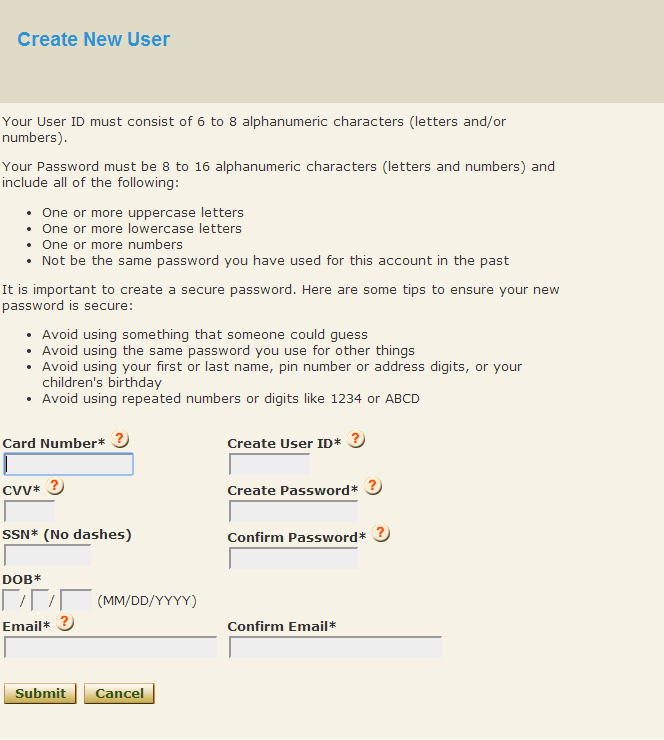 Once you create your account, you will be able to login and see your account balance, check transaction history, look at pending transactions that are yet to post, and update any account information – like address and phone number.
Protect Your Eppicard Account
You have probably received tons of emails and warnings in the mail about fraud and phishing on cards. You should protect your account from fraudsters and people who are looking to drain your account. Watch the video above to learn more about phishing and how to prevent yourself form becoming a victim of this kind of fraud. We hope you found this post on eppicard account login useful. Tell us about your experience in logging into your account or setting up a new account by commenting below. If you've had any experience with Eppicard customer service and would like to share, tell us below.