MS Eppicard
This is a review of the Mississipi Eppicard (MS Eppicard), including account login information, customer service phone number and how to get a live person on the phone, ATM, Fees and balance check information.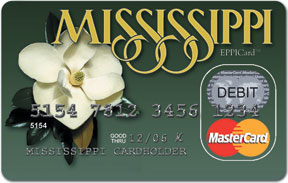 About Mississipi Eppicard
The MS Child Support Card is issued by the state's Department of Human Services to make child support payment to eligible recipients. It is a convenient method because the funds are directly deposited into the card account on the due date, making the funds immediately available for use by recipients.
How to Activate MS Eppicard
Before you can use your card, you have to activate it. You also have to activate it to be able to register it online and gain access to account balance and transaction details.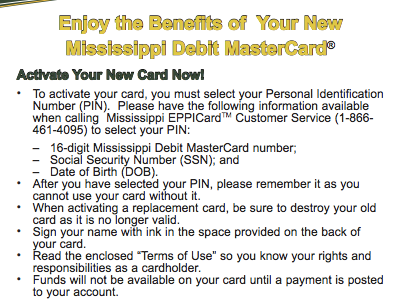 Customer Service Phone Number
If you would like to speak to a live person regarding your MS Child Support Eppicard, you should call the numbers below. Note that there is a seperate phone number to call if you are calling from outside the United States:
Call 1-866-461-4095 (toll free)
International Calls: 1-801-352-3274 / TTY Calls: 1-877-906-0085
24 hours a day / 7 days a week
MS Child Support Card Balance Check Information
To check the balance on your eppicard, you have two main ways to do that. The first method is to visit the website and log into your account using the User ID and Password you established at sign up. All transaction information is displayed immediately in date and time order. Monthly transaction history for the past 60 days can always be accessed online.
Another way to check your card balance is to use the ATM. You are allowed a total of three (3) free balance inquiries each calendar month at Hancock Bank, Regions Bank, or Trustmark Bank ATM locations. There is a fee of $0.75 for each inquiry after free are used and a fee of $0.75 at banks other than Hancock Bank, Regions Bank, or Trustmark Bank. You may also call the customer service number above to get your balance and transaction information.
We hope this information was helpful. If you have any questions or comments about your MS eppicard, please write them in our comments sections below. If you are having issues with customer service, we would like to know below.